You can export any of the Style Kits that are available in your Local Style Kits page, and import them to another website. 
Exporting from the local Style kits
In the Local Style Kits page, you can export a Style Kit individually, simply by hovering over it on the list and clicking the Export Theme Style Kit.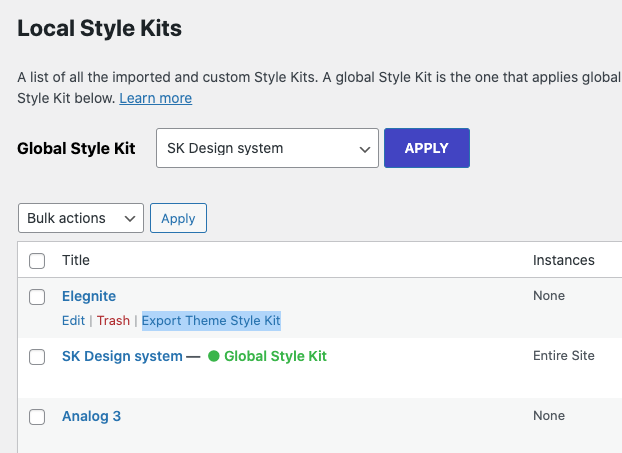 You will download a json file right away. You can also export multiple Style Kits as a Zip file, by selecting them and exporting through the Bulk Actions dropdown.
Importing to another site
To import one of the exported Style Kits into another site, you can follow the same process as you would do to import any other template into the Elementor template library.
In your dashboard, go to Templates > Saved Templates
At the top of the page, click the Import templates button

Import the json file that you previously exported. Now the newly added Kit will be available both in your elementor template library, and the Theme Style Kits page as well.
Exporting as part of an Elementor Site Kit
Style Kits can also be exported as part of a Site Kit setup. To do so you need to use Elementor's Site Kit Import / Export function under Elementor → Tools → Import / Export Kit.
In this case, when you import the entire Site Kit to the new website, your Style Kits will also be included.