A week after Elementor introduced Theme Styles in version 2.9+, we are happy to present you the first beta of Style Kits 1.6, where we are testing the integration of Style Kits into the native Theme Style Panel.

We appreciate your help and feedback during this transitioning phase, so we can spot and fix any rough edges in the UX and functionality.
How to enable and test the 1.6 beta
To test the 1.6 version, you need to have a version of Elementor that is higher than 2.9, where the Theme Style functionality is available.  
In your dashboard, go to Style Kits settings, and specifically to the version control tab. Enable the Beta features checkbox as explained to this article from the documentation.
Next, go to your plugins page, you should see the beta version available. 
Make sure you update to the beta only if you are on a safe staging or local environment, and not on a production site.

With 1.6 we are introducing the integration and merging of Style Kits into the Theme Styles panel. Let's go to details.
Style Kit Controls do not live in page Settings anymore
Under Page Settings, now you will only find the Style Kit dropdown switcher. If there already are Style kits available in your site, you still have the option to apply them on the page. If you do not have any Style Kits, then only a Default Kit should be available.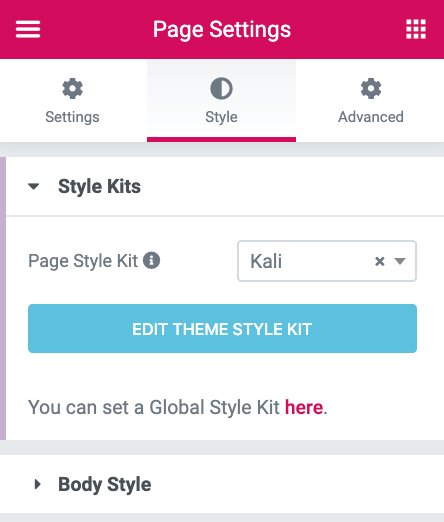 Style kit configuration now takes place inside the Theme Style Editor
You can customize the Style Kit in the Theme Style editor. There, you will find the Style Kit controls merged with the existing Elementor theme styles. All the SK-specific panels have a subtle left border so you can easily distinguish them.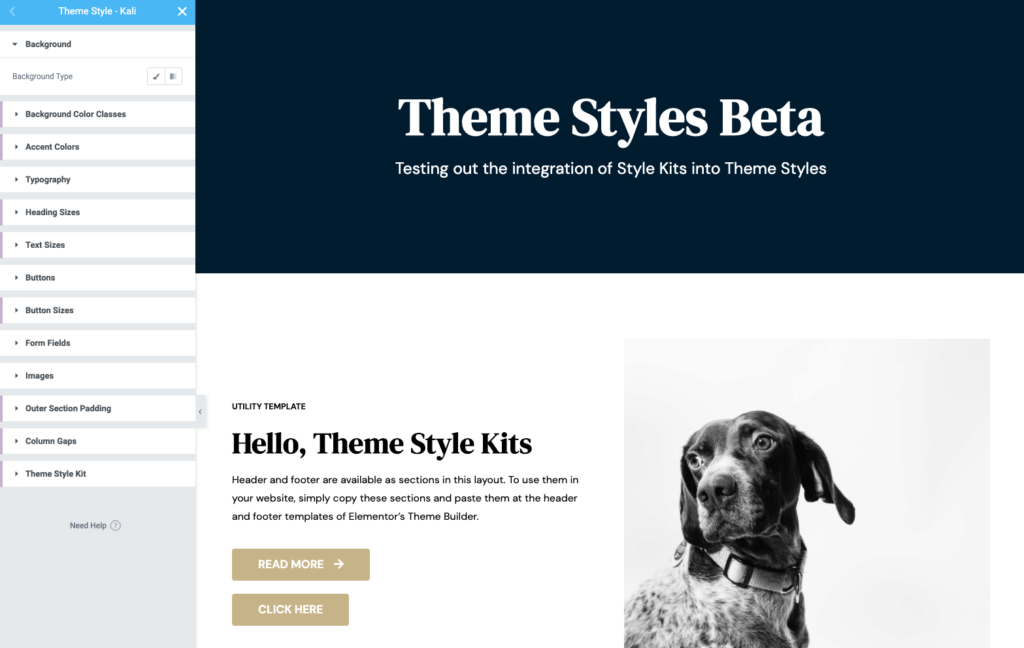 Style Kits are converted into the Elementor KIT template type
With the introduction of Theme Styles, Elementor introduced a new template type, named Kits. This is a native format of what Style Kits actually were: A "snapshot" of a Theme Styles configuration.
Behind the scenes, any Style Kits available in your site, are technically converted into Kits. And you will also notice that throughout the UI, we now refer to Style Kits as Theme Style Kits.
1. Customize a Theme Style Kit
During beta, you are encouraged to test the workflow of setting up a Style Kit in the new Theme Styles panel. You can optionally use a helper layout while you are configuring your Style kit, in order to have the most common elements on your page, and see how they respond to the controls. You can download such a helper layout as a zip here, and import it into your Elementor template library. Then, open this template with Elementor and start customizing.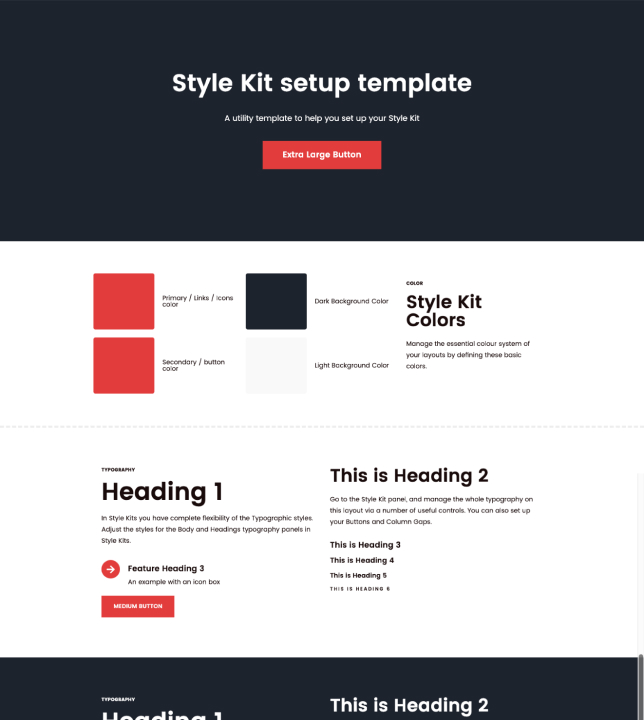 2. Use a Global Theme Style Kit
You can also try out the behaviour of a Global Style Kit, and see how things work when you apply a different Theme Style Kit in a page, overriding the global one.
When you import templates, you should still have the option to teleport a Theme Style Kit with it, into your installation. Please see how this works. 
Here is the more detailed list of this version's changes:
New: Style Kits integrated into Theme Styles. All existing Style Kits, are automatically converted to native Theme Style Kits
New: Added welcome screen for Theme Styles
New: Added latest Google fonts missing in Elementor
New: Added link to Theme Style panel in right-click menu
New: When resetting a Kit, you can revert from History screen
Tweak: Theme Style panel title to show Kit name
Tweak: Style Kits menu to show Theme Style Kits
Tweak: Use transient cache when fetching Kits
Tweak: Admin notices to show Analog logo
We would be honoured if you can send your feedback to support[at]analogwp.com where we will be keeping track of all submitted issues during this beta.
Your input is crucial, and will help us shape the direction of Style Kits into the new context of Theme Styles. Thanks in advance for your help.
Team Analog